Ceramium diaphanum
6 photos (see below for more photos)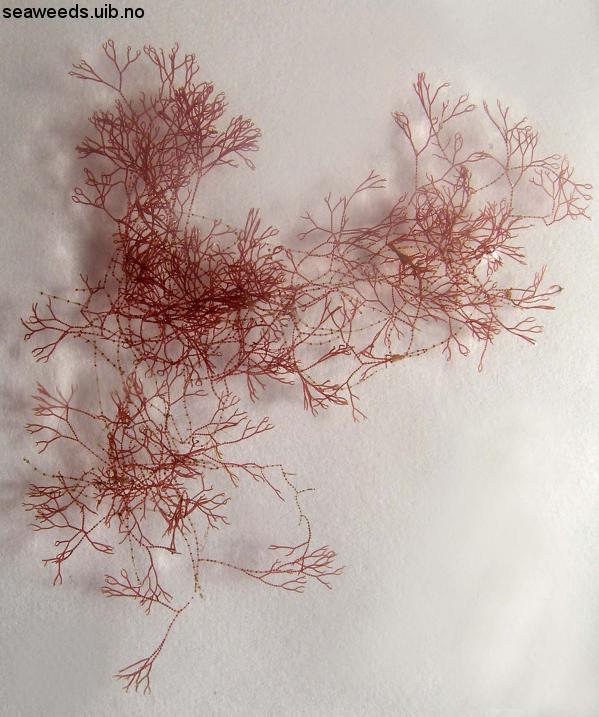 Habit
Photo by: Vivian Husa
Location: Kinna, Raunefjorden, Hordaland
Photo is showing (categorized): Thallus
Verified by Bergen Seaweed Group
Sampling date: 2005-11-11
Published: 2009-01-22

Small and delicate species, 1-5 cm tall, growing in the subtidal sone.
---
This is a rather rare southern species at the Norwegian coast and is distributed north to the Trondheimsfjord. It can be confused with Ceramium tenuicorne, since both are thin and have conspicious ecorticate internodes of main axes, and tightly inrolled apices. It separates from this species by having wide angles between branches (> 60 degrees, while C. tenuicorne has 30-45 degrees), and swollen, protruding cortical bands, which are often wider in the upper than in the lower part. Contrary to C. tenuicorne it may also have gland cells. C. diaphanum usually developes only one tetrasporangia in each cortical band, while C. tenuicorne developes a ring of tetrasporangia in each band and additionally often carries parasporangia.
---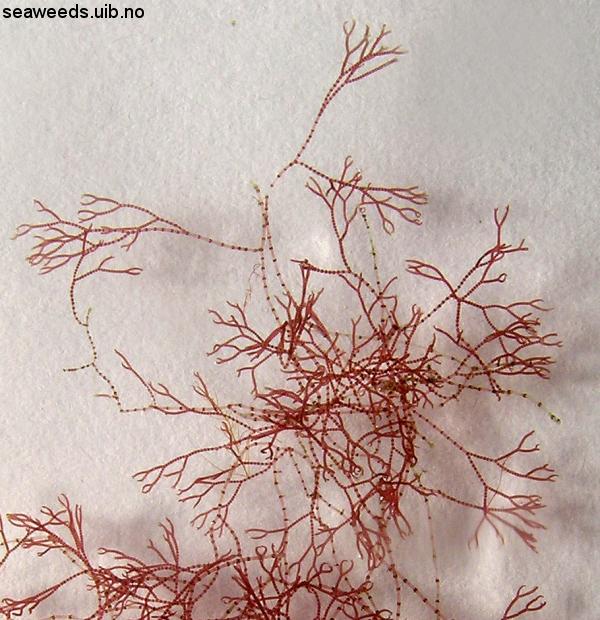 Branching with wide angels > 60┬░
Photo by: Vivian Husa
Location: Kinna, Raunefjorden, Hordaland
Photo is showing (categorized): Branching pattern
Verified by Bergen Seaweed Group
Sampling date: 2005-11-11
Published: 2009-01-22
---
---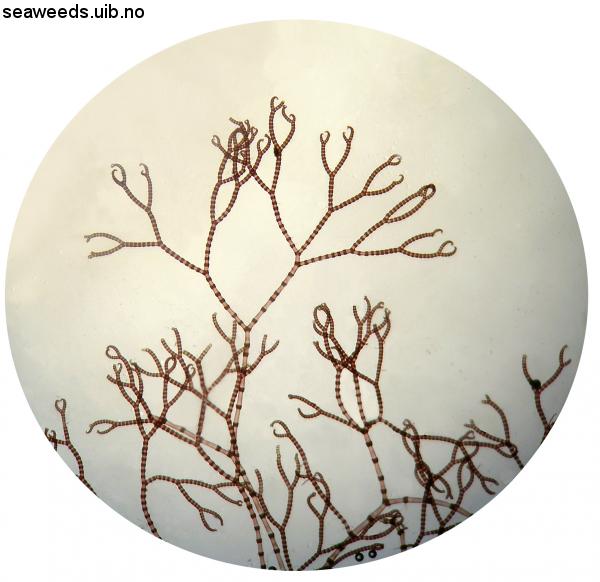 Apices
Photo by: Vivian Husa
Location: Raunefjorden, Hordaland
Photo is showing (categorized): Apical tip
Verified by Bergen Seaweed Group
Sampling date: 2005-11-11
Published: 2009-01-22
---
---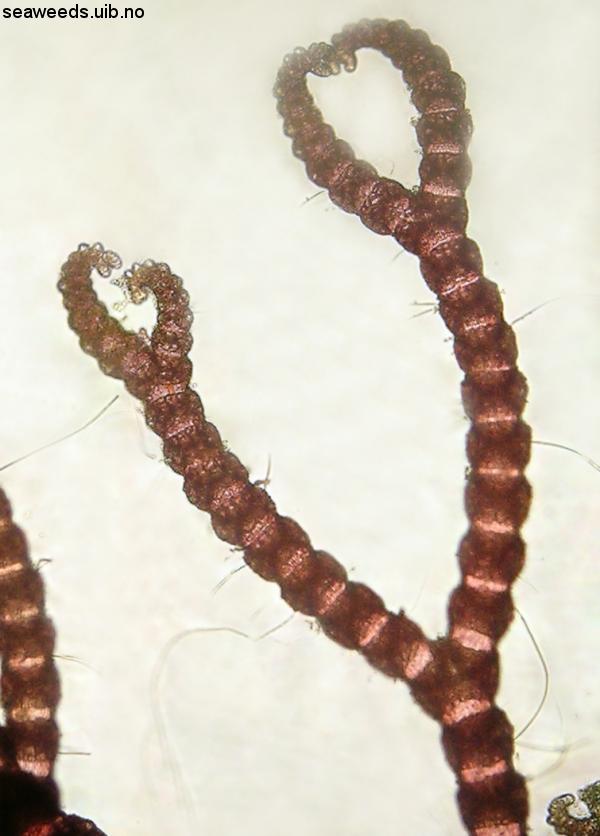 Strongly inrolled apices
Photo by: Vivian Husa
Location: Raunefjorden, Hordaland
Photo is showing (categorized): Apical tip
Verified by Bergen Seaweed Group
Sampling date: 2005-11-11
Published: 2009-01-22
---
---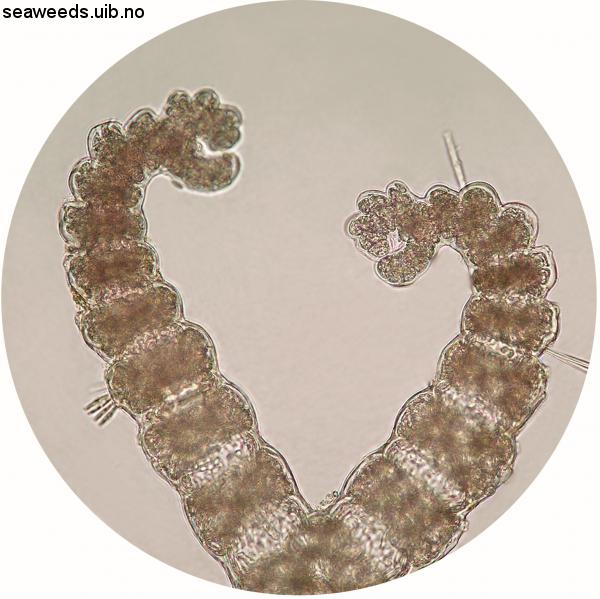 Conspicious dentate outer faces of apical tips
Photo by: Vivian Husa
Location: Raunefjorden, Hordaland
Photo is showing (categorized): Apical tip
Verified by Bergen Seaweed Group
Sampling date: 2005-11-11
Published: 2009-01-22
---
---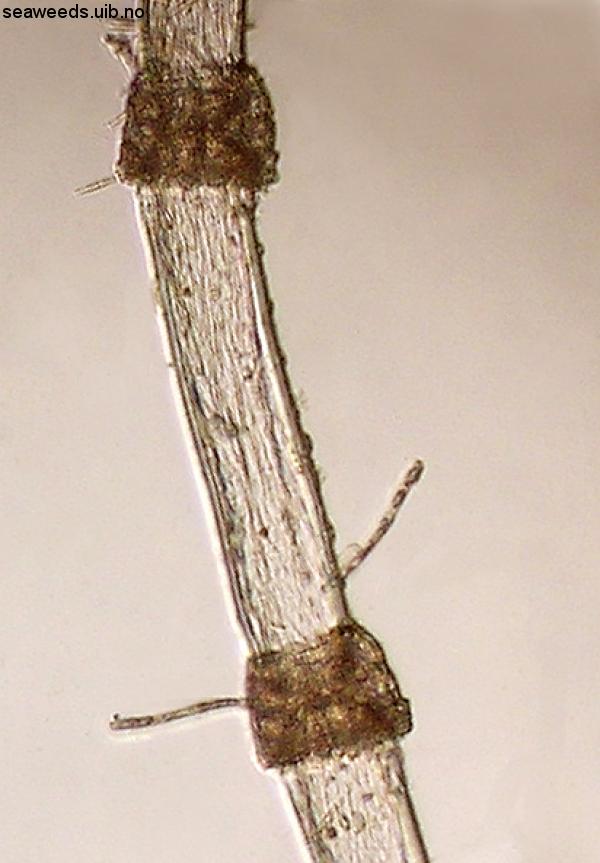 Protruding collar-like cortical bands in middle part of axes.
Photo by: Vivian Husa
Location: Raunefjorden, Hordaland
Photo is showing (categorized): Cell row, Cortical cells
Verified by Bergen Seaweed Group
Sampling date: 2005-11-11
Published: 2009-01-22
---
---
Latest published photos


Gelidium pusillum
Sampling date 2014-10-08
Published 2020-07-06


Fucus spiralis
Sampling date 2017-08-08
Published 2020-06-17


Pyropia leucosticta
Sampling date 2020-06-17
Published 2020-06-17


Pyropia leucosticta
Sampling date 2008-06-01
Published 2020-06-17


Pyropia leucosticta
Sampling date 2008-06-01
Published 2020-06-17