Hypoglossum hypoglossoides
4 photos (see below for more photos)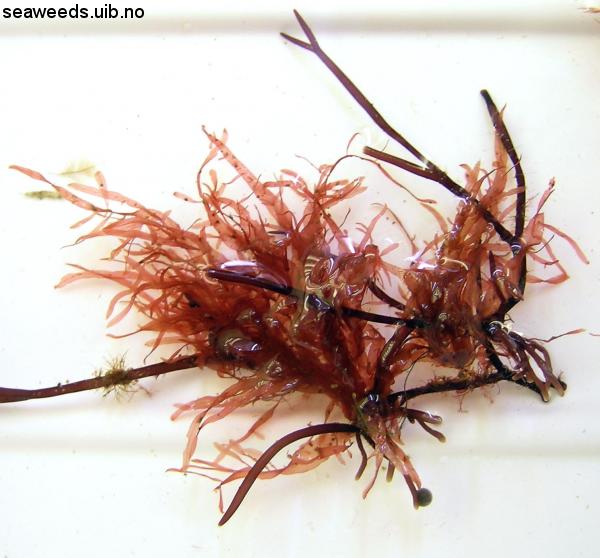 The first specimen found in Norway
Photo by: Vivian Husa
Location: Sel√ły
Photo is showing (categorized): Thallus
Verified by Professor Jan Rueness at the University of Oslo
Sampling date: 2005-03-23
Published: 2006-03-23

Mature tetrasporophyte (5 cm), first registration in Norway.
---
This species was recorded in Norway for the first time in March 2005. We found a 4-5 cm tall fertile tetrasporophyte by dredging at at 5-15 m in a semi-exposed sound east of Sel√ły in the Fana-fjord south of Bergen. The species resembles Apoglossum ruscifolium, but can be separated from this by the lack of lateral veins in the blade, while A. ruscifolium has microscopic lateral veins. The cells in the blade tissue are also larger in H. hypoglossoides (> 60 ?m long) than in A. ruscifolium (< 20 ?m).
---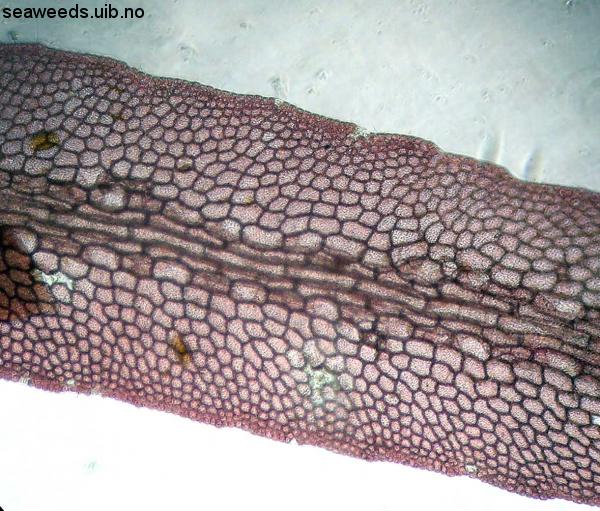 Lamina with midrib and no lateral veins.
Photo by: Vivian Husa
Location: Sel√ły
Photo is showing (categorized): Cells
Verified by Professor Jan Rueness at the University of Oslo
Sampling date: 2005-03-23
Published: 2006-03-23
---
---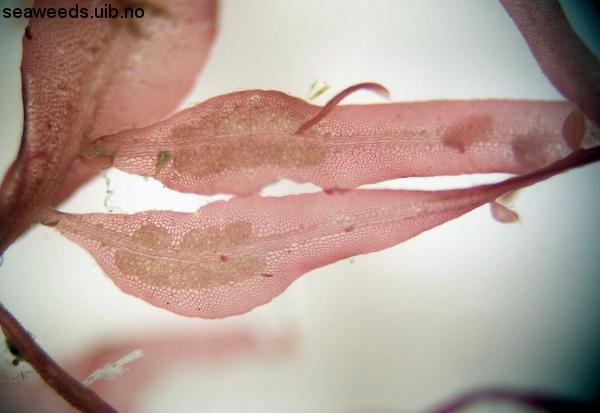 Tetrasporangial sori developing on each side of the midrib
Photo by: Vivian Husa
Location: Sel√ły
Photo is showing (categorized): Tetrasporangium
Verified by Professor Jan Rueness at the University of Oslo
Sampling date: 2005-03-23
Published: 2006-03-23
---
---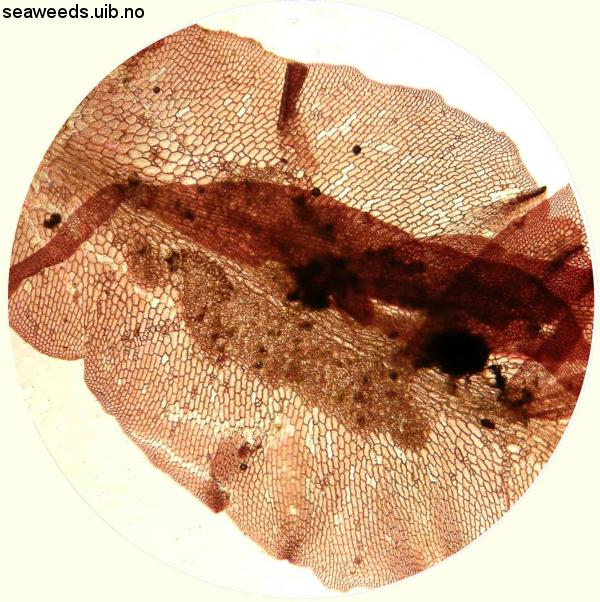 Tetrasporangial sori
Photo by: Vivian Husa
Location: Sel√ły
Photo is showing (categorized): Tetrasporangium
Verified by Professor Jan Rueness at the University of Oslo
Sampling date: 2005-03-23
Published: 2006-03-23
---
---
Latest published photos


Gelidium pusillum
Sampling date 2014-10-08
Published 2020-07-06


Fucus spiralis
Sampling date 2017-08-08
Published 2020-06-17


Pyropia leucosticta
Sampling date 2020-06-17
Published 2020-06-17


Pyropia leucosticta
Sampling date 2008-06-01
Published 2020-06-17


Pyropia leucosticta
Sampling date 2008-06-01
Published 2020-06-17