Saccorhiza polyschides
( BOK:Draugtare ENG:Furbelows)
2 photos (see below for more photos)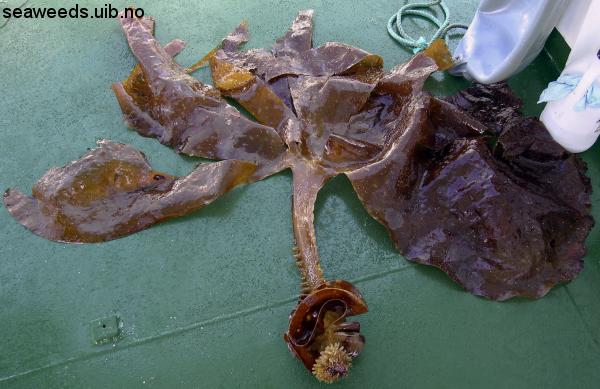 Thallus
Photo by: Vivian Husa
Location: Utvær, Sogn og Fjordane
Photo is showing (categorized): Thallus
Verified by Bergen Seaweed Group
Sampling date: 2004-08-22
Published: 2007-11-27

Annual species that can reach a size of 4,5 meters during one season. Distributed on the west coast from Stavanger to Nordland. Growing in the sublittoral at wave exposed coast.
---
---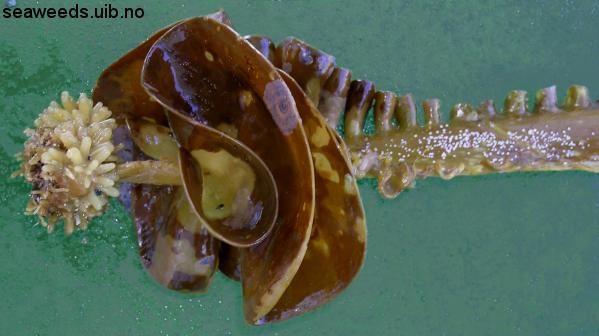 Hapteron and stipes
Photo by: Vivian Husa
Location: Utvær, Sogn og Fjordane
Photo is showing (categorized): Holdfast structure
Verified by Bergen Seaweed Group
Sampling date: 2004-08-22
Published: 2007-11-27
---
---
Latest published photos


Gelidium pusillum
Sampling date 2014-10-08
Published 2020-07-06


Fucus spiralis
Sampling date 2017-08-08
Published 2020-06-17


Pyropia leucosticta
Sampling date 2020-06-17
Published 2020-06-17


Pyropia leucosticta
Sampling date 2008-06-01
Published 2020-06-17


Pyropia leucosticta
Sampling date 2008-06-01
Published 2020-06-17