Saccharina latissima (=Laminaria saccharina)
( BOK:Sukkertare ENG:Poor man's weather glass,Sugar Kelp,Sugar Wrack)
3 photos (see below for more photos)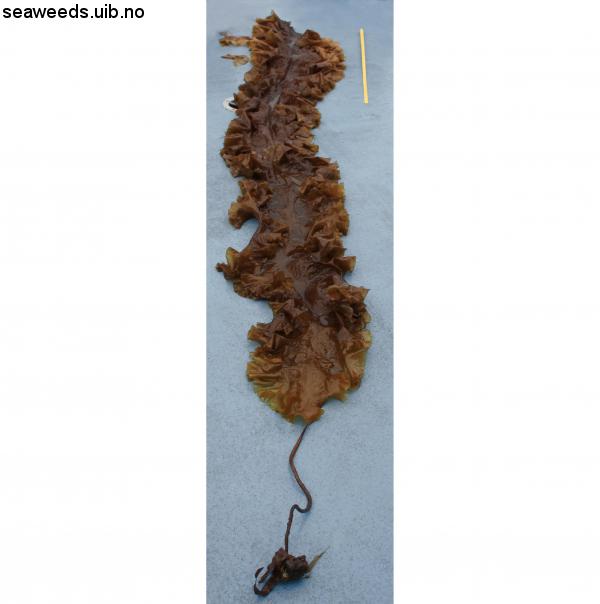 4 meter long specimen from the Hardangerfjord
Photo by: Vivian Husa
Location: Halsn√ły, Hordaland
Verified by Network members
Sampling date: 2009-06-22
Published: 2010-03-10

This is one of our large kelp species which thrives in the sublittoral zone in wave protected and semi- protected areas. It attaches to rock, small boulders and stones.
---
The species have a large undivided frond without midrib. The frond is wrinkled with wavy margins and often with wrinkle-like rows along the middle of the flat blade. The species is perennial and can live for 3-4 years and reach a length of 4 meters.
---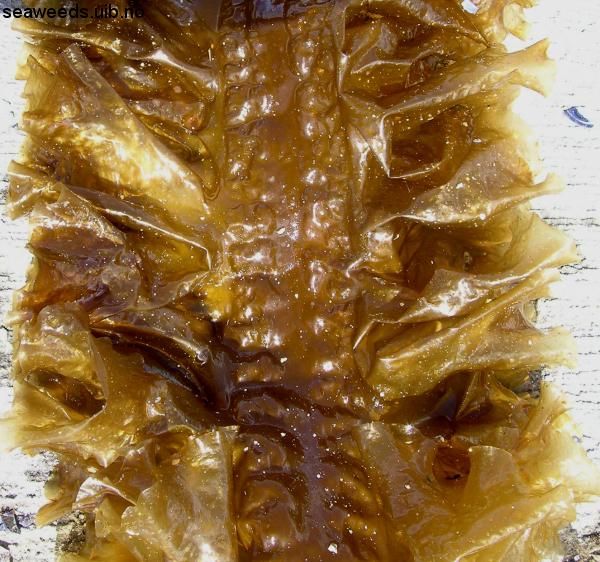 Blade detail
Photo by: Vivian Husa
Location: Raunefjorden, Hordaland
Photo is showing (categorized): Surface view
Verified by Network members
Sampling date: 2008-04-18
Published: 2010-03-10
---
---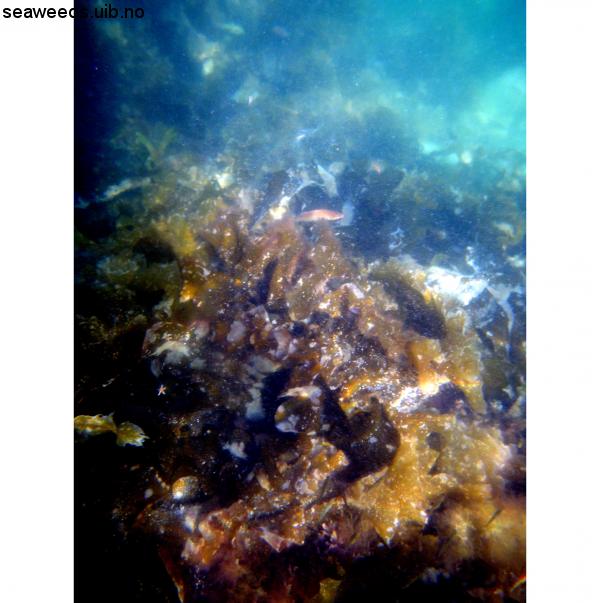 Habitat
Photo by: Vivian Husa
Location: Halsn√ły, Hordaland
Photo is showing (categorized): Thallus
Verified by Network members
Sampling date: 2009-06-22
Published: 2010-03-10
---
---
Latest published photos


Gelidium pusillum
Sampling date 2014-10-08
Published 2020-07-06


Fucus spiralis
Sampling date 2017-08-08
Published 2020-06-17


Pyropia leucosticta
Sampling date 2020-06-17
Published 2020-06-17


Pyropia leucosticta
Sampling date 2008-06-01
Published 2020-06-17


Pyropia leucosticta
Sampling date 2008-06-01
Published 2020-06-17