Himanthalia elongata
( BOK:Knapptang,Remtang ENG:Sea Thong)
2 photos (see below for more photos)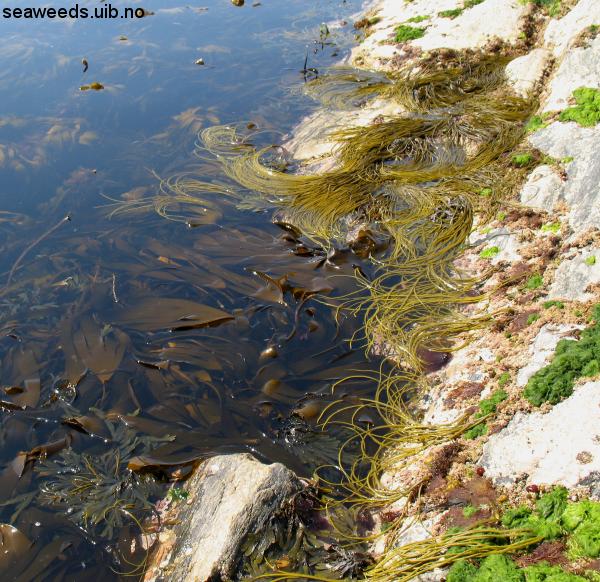 Typical habitat
Photo by: Kjersti Sj├Ştun
Location: Golten, Sotra, Hordaland
Verified by Bergen Seaweed Group
Sampling date: 2007-06-10
Published: 2007-06-12

Long receptacles coiled in the intertidal zone
---
The species grows in the intertidal and is common on wave┬ľexposed shores in most parts of Norway (except the inner Skagerrak region and the northernmost part of Norway). It normally has a biennial life-cycle. The small, disc-like vegetative thallus produces up to 2 m long receptacles during spring and early summer, which are shed in the autumn.
---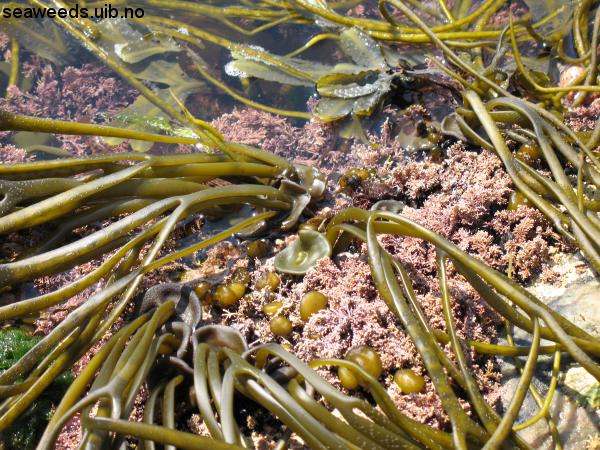 Close-up of vegetative and fertile thalli
Photo by: Kjersti Sj├Ştun
Location: Colten, Sotra, Hordaland
Photo is showing (categorized): Reproductive structure
Verified by Bergen Seaweed Group
Sampling date: 2007-06-10
Published: 2007-06-12

When fertile, the disc-like thallus carries long, flattened receptacles.
---
---
Latest published photos


Gelidium pusillum
Sampling date 2014-10-08
Published 2020-07-06


Fucus spiralis
Sampling date 2017-08-08
Published 2020-06-17


Pyropia leucosticta
Sampling date 2020-06-17
Published 2020-06-17


Pyropia leucosticta
Sampling date 2008-06-01
Published 2020-06-17


Pyropia leucosticta
Sampling date 2008-06-01
Published 2020-06-17