Chordaria flagelliformis
( BOK:Strandtagl)
1 photos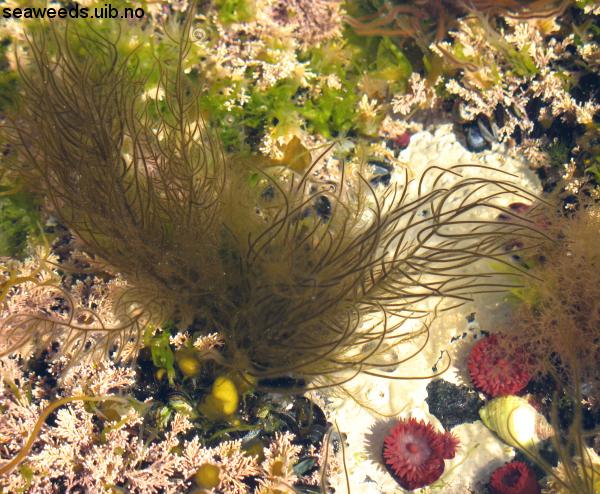 Habit
Photo by: Kjersti Sjøtun
Location: Golten, Sotra, Hordaland
Photo is showing (categorized): Branching pattern
Verified by Bergen Seaweed Group
Sampling date: 2007-06-10
Published: 2007-06-12

Young specimens growing in a littoral pond.
---
The species is common in the intertidal zone during summer at relatively wave-exposed sites. The dark brown thallus can become up to 50 cm long, and has a main axis with numerous first order branches.
---
Latest published photos


Gelidium pusillum
Sampling date 2014-10-08
Published 2020-07-06


Fucus spiralis
Sampling date 2017-08-08
Published 2020-06-17


Pyropia leucosticta
Sampling date 2020-06-17
Published 2020-06-17


Pyropia leucosticta
Sampling date 2008-06-01
Published 2020-06-17


Pyropia leucosticta
Sampling date 2008-06-01
Published 2020-06-17