First results from Tjongspollen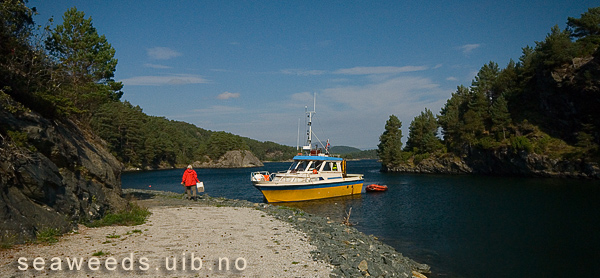 The Bergen Seaweed group made a field trip to Tjongspollen (Bømlo, Hordaland) 11 -13 September 2006, in fair weather and late-summer sunshine. Erling Heggøy has relatives at Bømlo, and kindly arranged housing for us.
Tjongspollen is a land-locked poll, surrounded by a coastal pine forest. The poll is about 6 km long and 1 km wide, and has two narrow openings to the sea. The area around it is almost un-inhabited, and the poll is therefore little influenced by anthropogenic activity. We collected samples from various depth ranges by using a triangular-formed dredge at a total of 8 stations, covering the whole length of the poll. For dredging we used the boat "Aurelia", with Tomas Sørlie as captain. A smaller dredge and a little boat were used close to land. The catch was sorted in the boat. Samples were taken of large and conspicuous species, and in addition samples of unidentified biomass were collected for later examination.

A zone of fucoids dominated in the intertidal, and at a few stations a narrow zone of Chondria dasyphylla (photo) in the upper sublittoral was seen. C. dasyphylla is a southern red alga, only known from a few localities in Norway. Down to 10 m the vegetation was dominated by loose-laying algae at many stations, and Ahnfeltia plicata, Furcellaria lumbricalis, Polyides rotundus and Spermatochnus paradoxus were common. Deeper, the introduced red alga "Heterosiphonia japonica" was common at many stations. At two stations we found several specimen of a Codium species showing the characteristics of Codium vermilara. In an earlier study from Tjongspollen, two plants were identified as Codium vermilara (Heggøy 2001). This southern species has been regarded as extinct in Norway. We also found a specimen of Haraldiophyllum bonnemaisonii, a red alga recorded in Norway for the first time in 2003. And we have not yet even started to examine the content of the conserved samples we bought back.
Latest published photos


Gelidium pusillum
Sampling date 2014-10-08
Published 2020-07-06


Fucus spiralis
Sampling date 2017-08-08
Published 2020-06-17


Pyropia leucosticta
Sampling date 2020-06-17
Published 2020-06-17


Pyropia leucosticta
Sampling date 2008-06-01
Published 2020-06-17


Pyropia leucosticta
Sampling date 2008-06-01
Published 2020-06-17